Performances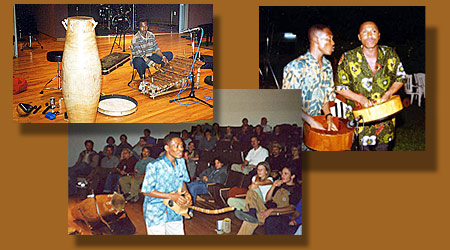 Aaron Bebe Sukura:
Selected Performance History
Aaron BebeSukura has performed at uncountable places in his home country of Ghana, West Africa, including at the University of Accra's 50th Anniversary and at a dinner party held by Ghana former president J.J Rawlings for President BlaiseCompaore of Burkina Faso.He has also performed extensively in the United States, Europe, Africa, and the Middle East. The following is a partial list of those performances.
Performances in the United States,
Fall 2002
Colorado
6 October: Lewis College, Durango (concert)15 October: University of Colorado, Boulder (concert and lecture/demonstrations)
North Carolina
18-20 October: The Leaf Festival, Black Mountain, Asheville (performance)22 October: Greyeagle Club, Asheville (concert)27 October: Earth Haven Village, Black Mountain (concert)
28 October: Café Portifino, Boone (concert)
23 October: Burnville College (performance)28 October: University of North Carolina (performance)
30 October: Two public middle schools in Raleigh-Durham (performance)
Other Appearances
5 November: Coffee shop, New Jersey7 November:Coffee shop, Brooklyn, New York
Performances in
Europe
, Fall 2002
Germany
:
18-23 November: workshops and concert at the University of Witten/Herdecke
14 December: concert at the Museum Fur Volkerkunde (ethnographic Museum),Urban
African Sounds Series, organized by journalist Jay Routledge
In

Switzerland
25 & 29 November: workshops at the Jazz School of Lucerne.
26 November:concert at Friburg in the Reformed Church.
1 December: Performance during the church service at the Reformierte Kirche Kleinhuningen
2-7 December: workshops at the Studio Fur Aussereuropaische Musik der
Musikakademie, Basel 8 December: concert at the Bird's Eye jazz club, Basel15 December: concert at the Moods jazz club, Zurich
In

France

.
11&12 December:Concerts at the Café Satellit, Paris.12 December: Concert at the Le Baiser Sale, Paris.
Performances in the

United States

, Spring & Summer 2003
North Carolina
9-11 May: The Leaf Festival, Asheville (performance)24 May: Mountain Heritage High School,
Burnville
(performance) 24 May: East Yancey Middle School,
Burnville
(performance)26 May: Eden Festival, Asheville (performance)
19 June: The Orange Peel (concert)
8 August: Earth Haven Village, Black Mountain (concert)13 August: State of North Carolina DHHS Division of Mental Health, Black Mountain (performance)
17 August: African Dishes, organized by OSO (performance)
Kentucky
23 June: National Zoo, Louisville (performance)13 June: Saffron's Restaurant, Louisville (concert)22 June: 1500 Bardstown Road, Louisville (performance)
Indiana



27 June: Potter Festival, Coryden (performance)
Colorado
2 July: Dazzle Restaurant, Denver (performance)12 July: Nedfest, Nederland (performance)
17 July: Towne Center Main A., Boulder (performance)17 July: Bamtaba African Festival, Boulder (performance)
Georgia
25 July: Elizabeth Shepherd home, Columbus (lesson)26 July: Playwright Café, Columbus (concert)
27 July: House party, Geneva (performace)28 July: Concert at the River Center, Columbus 30 July: House party, Columbus (performance)
Florida
17 May: Spiritualities Festival, Tampa
Ohio
15 May: Camp Joy outdoor education centre[summer Children Camp], Clarkville
Performances with

Hewale

Sounds

,1998

-2000
1998: Pretoria, South Africa, [ISME Conference] 1999: St. Louis, Missouri, USA [Cultural Exchange Program]23 July 1999: Ferede Folk Festival, Norway, July 23
February 1999: MASA Festival, Cote D'Ivoire December 1999: UMTATA Choral Music festival, South Africa 2000: Globalisation of World Music Conference, Organized by UNESCO; Jordan, And Nigeria.