Biography
Biography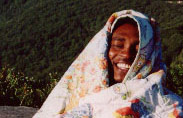 Aaron Bebe Sukura
Master Xylophonist

Born in 1970 in the village of Tanchara in the Upper West Region of Ghana, Aaron Bebe Sukura showed a great enthusiasm for music at an early age. He would trace the sound of the gyil, the wooden xylophone played in this area of West Africa , to wherever it was being played. Even before he could walk, Aaron would crawl and climb to the xylophone anytime his father was playing, often holding the mallets together with his father as he played. At his grandfather's funeral someone told his mother that Aaron would be a great xylophonist one day, and that predication has been realized, for today Aaron is a multi-talented instrumentalist.
Aaron was enrolled in Tanchara Primary and Middle Schools where he was educated from 1979-1989. Upon completing his schooling here, he traveled south to the Ghanaian capital Accra , and in 1992 he began working for the Music Department of the University of Ghana as a xylophone instructor. He also took the opportunity to continue his own studies, and attempted the General Certificate of Education (G.C.E.) Ordinary Level in 1996 under the auspices of the West African Examination Council.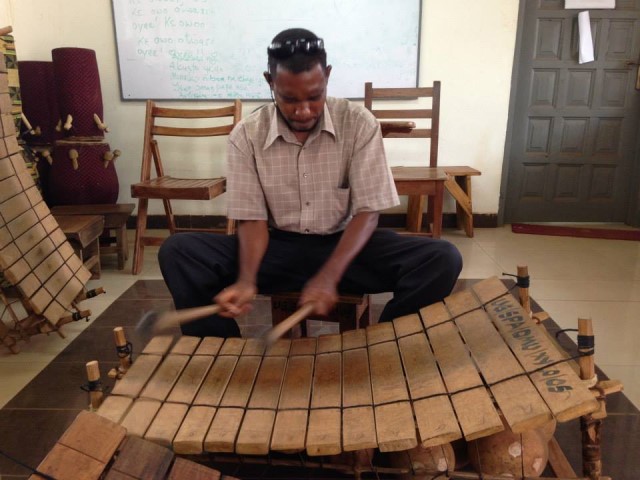 A skillful player, Aaron has developed classical styles of playing the gyil and his admirers enjoy watching him play for hours on end. He combines traditional and classical music into his own compositions, making his playing very interesting. In addition to the gyil, Aaron also performs on the seperewa, a harp-lute of Ghana's Akan-speaking people; the mbira, the Zimbabwean soul instrument; the atenteben, a Ghanaian bamboo flute; and the African guitar. He often uses these instruments to accompany his singing and has composed songs in both English and Dagara.
Many people both foreign and local have benefited from Aaron's instruction. He has taught gyil to students from around the world, some of whom are now great xylophone players. He has also taught Primary and J.S.S. schools as a demonstrator.
Aaron frequently joins popular groups in Ghana to perform at concerts, funerals, churches, seminars, and conferences. These groups include the Novisi dance group, Ghana Dance Ensemble, Pan African Orchestra, University Palm Wine Highlife Band, Abibigromma Theater Company of the School for the Performing Arts, Ghana , and many others.
Aaron Bebe Sukura is currently combining his duties as an instructor and as a master xylophonist by playing in Hewale Sounds, the resident ensemble of the International Centre for African Music and Dance at the University of Ghana, Legon. He has traveled around the world with this group.
Many of Aaron's numerous compositions remain unrecorded, and he plans to record them as soon as he receives financial support. He plans to form a Ghanaian xylophone ensemble to increase recognition and appreciation of this instrument and the musical traditions it represents.
Aaron is married with two sons.
About the Gyil
The xylophone is the primary instrument of peoples in northern Ghana , northern Cote D'Ivoire, and southern Burkina Faso. Xylophones in this area are constructed by suspending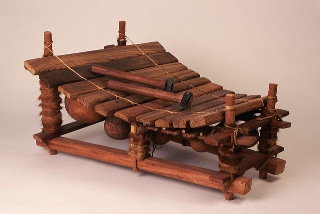 wooden keys on a frame over calabash gourd resonators. Holes drilled in the gourds are covered with a spider's film to create a buzzing sound when the key above is struck. Among the Dagara and Lobi peoples of Ghana , the gyil occupies a central place in community life and can be heard at weddings, funerals, dances, and church services. The instruments are played alone, in pairs, or in ensembles with singers and drummers.